Event: Economic Development Seminar
The material below refers to a prior event.
Economic Development Seminar to Introduce New Book on the Subject
A half-day seminar for local leaders interested in economic development will introduce a new book on the topic by University of Toledo President Emeritus Dr. Dan Johnson.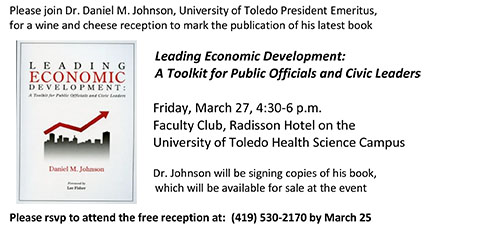 The seminar, on Friday, March 27, from 2-4:30 p.m. at the Radisson Hotel on UTís Health Science Campus, will feature keynote addresses by Dr. Johnson and former Ohio Lieutenant Governor Lee Fisher, followed by a panel discussion. Participants in the panel discussion include Paula Hicks-Hudson, mayor of Toledo; Joe Napoli, general manager of the Toledo Mud Hens; Jeffrey Potter, president of Potter Technologies and host of a radio show on Toledo business; and Dr. Frank Calzonetti, UTís vice president for governmental relations.
Mr. Fisher is currently president of the organization CEOS for Cities, and has worked in economic development for much of his career.
The seminar is sponsored by the UT Urban Affairs Center, and the UT Press, which published Dr. Johnsonís book. The book, Leading Economic Development: A Toolkit for Public Officials and Civic Leaders, is available for sale from the UT Press website.
Dr. Johnsonís book is a primer for how those new to the field, or who want to become more successful, can lead economic development in their communities. Basing his work on the best minds and current scholarship in economic development, Dr. Johnson presents concepts in an approachable way that will be helpful to the novice and the experienced professional. The book draws on his experience not only as a president of UT where he made economic development part of the universityís mission, but also on work he had done throughout his career in Illinois, Virginia, Texas, Alaska, and Dubai.
The book includes a foreword by Lee Fisher. It includes chapters on economic clusters, globalization, branding, workforce development, the role of universities in economic development, private sector economic development, and future trends in the field.
The cost of the seminar is $25, which includes a copy of Dr. Johnsonís book (cover price $25). Dr. Johnson will host a free reception and book signing from 4:30 to 6 p.m. in the Faculty Club at the Radisson following the seminar.
Information about the seminar is available from the UT Urban Affairs Center website: uac.utoledo.edu; or by calling the UT Press at 419-530-2170. The registration deadline for the seminar is Monday, March 23. To rsvp for the reception and book signing, call the UT Press at the above number.
View videos and photographs of the event below. The full collection of photos can be found on our Facebook page. (Accessible using the panel to the right.)
| | |
| --- | --- |
| | |
| Leading Economic Development: UToledo Urban Affairs Center (Part 1) | Leading Economic Development: UToledo Urban Affairs Center (Part 2) |
| | |
| Dr. Dan Johnson (Photo: Dan Miller) | Lee Fischer (Photo: Dan Miller) |
| | |
| Dr. Dan Johnson (Photo: Dan Miller) | Left to right: Neil Gibson (Northern Ireland Center for Economic Policy), Dan Johnson (President Emeritus of University of Toledo), Ford Weber (President/CEO Lucas County Improvement Corporation) |
| | |
| | |
| | |
| | |
| | |