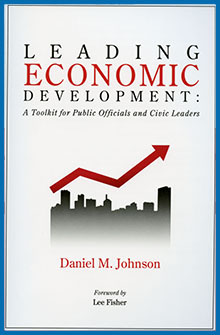 Price: $20.00
Leading Economic Development
The book lays the groundwork for newcomers to the field, or leaders who want to become more successful, to cultivate economic growth in the communities they serve. Dr. Johnson bases his work on the best minds and current scholarship in economic development and presents concepts in an approachable way that can be helpful to the novice and the experienced professional. The book draws on his experience not only as president of the University of Toledo, where he made economic development part of the mission of university, but also work he has done throughout his career in Illinois, Virginia, Texas, Alaska, and Dubai.
According to U.S. Representative Marcy Kaptur, "President Emeritus Johnson effectively demonstrates in his book the benefits of regional cooperation in promotion of economic growth." Lee Fisher, former Lt. Governor of Ohio and president of the organization CEOs for Cities, said "Dan Johnson reinforces in this book that economic development is much more than financial incentives. It is about connecting your distinctive assets of people, place, and opportunity."
Articles & Reviews
"Leading Economic Development" at the University of Toledo Urban Affairs Center
Product Details
Title: Leading Economic Development: A Toolkit for Public Officials and Civic Leaders
Author: Daniel M. Johnson
Genre: Economics, Non-Fiction
Paperback: 282 pages
Publisher: The University of Toledo Press
ISBN: 978-0-692-35470-452500
Leading Economic Development: UToledo Urban Affairs Center (Part 1)
Leading Economic Development: UToledo Urban Affairs Center (Part 2)
Dan Johnson speaking at TEDx Toledo
About The Author
Daniel M. Johnson has served in higher education leadership positions for more than 30 years, during which he fostered collaborations and partnerships between his universities, government, and industry. As president of the University of Toledo, he led the successful effort in 2006 to merge UT with the Medical University of Ohio, creating the third largest university in the state. After leaving the UT presidency he was invited to come to the United Arab Emirates to assume a leadership position in that nation's higher education system, where he served as provost and chief operating officer of Zayed University, with campuses in Dubai and Abu Dhabi.
Prior to his years in leadership positions, Dr. Johnson was a professor of sociology at universities in Illinois, Virginia, Texas, and Alaska where he taught courses in demography and conducted research on public policy. He has published more than 50 research papers and reports as well as six books.