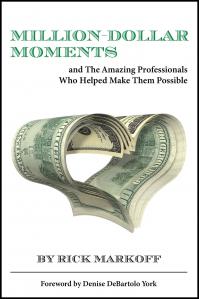 Million-Dollar Moments
Rick Markoff
$24.95
24.95
A book about meaningful, million or multi-million dollar gifts to non-profit entities.
More Details
The book features chapters by 18 different resource development professionals and non-profit executives in which they describe the circumstances behind their first, or most meaningful, million or multi-million dollar gift.
List of Chapters and Contributors</p?>
CHAPTER 1: Genevieve Haugh Aldham Christ, by Rick Markoff, St. Vincent Medical Center and Foundation.
CHAPTER 2: IBM and Dr. Robert I. Sinsheimer, by Colette Murray, University of California, Santa Cruz.
CHAPTER 3: It Was All About Education, by Andrea Neely, United Negro College Fund
CHAPTER 4: Planting Seeds, by Danny Dean, Indianapolis Marion County Public Library Foundation.
CHAPTER 5: The Match and Roundup River Ranch, A SeriousFun Children's Network Story, by Ruth Johnson, Roundup River Ranch.
CHAPTER 6: Phyllis and Walter, Friends Forever, by Dee Metaj, College of Osteopathic Medicine, Michigan State University.
CHAPTER 7: Meeting a Societal Need, Boys Town, USA, by Dennis Stefanacci, Father Flanagan's Boys Town.
CHAPTER 8: It Happened on 9/11, by John S. Lore, ConnectMichigan Alliance
CHAPTER 9: Who? How Fast? For What? by Frank Habib, Milwaukee School of Engineering.
CHAPTER 10: The Improbable Major Donor, by Karen Burns, Indianapolis Zoological Society, Inc.
CHAPTER 11: My Favorite Million-Dollar Moment, An Anniversary Gift, by Gene Tempel, Indiana University and Indiana University Foundation.
CHAPTER 12: Our Chairman, Our Champion, by Kathleen Carroll, Toledo Symphony Orchestra.
CHAPTER 13: Body, Mind, and Spirit, by Kenneth L. Gladish, Northbrook Suburban YMCA.
CHAPTER 14: Tom Smith and the Butler Way, by Mark Helmus, Butler University.
CHAPTER 15: The Legacy of Stella and Charles Guttman, by Scott Evenbeck, Guttman Community College, City University of New York.
CHAPTER 16: I Still Have the Voicemail on My Phone, by Sharon Pierce, The Villages.
CHAPTER 17: Ensuring Institutional Success, by Steve Helmich, Cathedral High School, Indianapolis
CHAPTER 18: Bill and My Million-Dollar Moment, by Vance Peterson, Sierra Nevada College.
CHAPTER 19: The Unfinished Story, by Byron Tweeten, Growth Design Corporation, with Rick Markoff
About the Author
A past President of the St. Vincent Medical Center Foundation, Rick Markoff is the founding President of the Greater Toledo Chapter of the National Society of Fund Raising Executives. He is also the former Executive Vice President of the Simon Property Group's Simon Youth Foundation.
He also taught graduate courses in Interpersonal Skills for Leaders, Management Training and Development, and Major Topics in Human Resources at Indiana University Purdue University Indianapolis while serving as Visiting Senior Advisor to the Chancellor. Markoff is also the Founding President of the Damar Services Foundation.