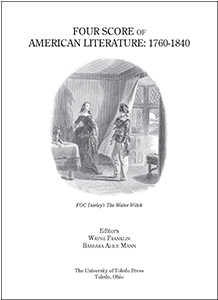 Four Score of American Literature
Wayne Franklin & Barbara Mann, editors
$39.95
39.95
A peer-reviewed scholarly journal on the literary culture of the United States between 1760 and 1840.
More Details
Four Score is a peer-reviewed scholarly journal featuring a wide range of topics around the literary culture of the United States starting with the ratification of the Constitution in 1789 through to the death of the "father of American literature," James Fenimore Cooper in 1851.
List of articles:
Exhuming History: Charles Brockden Brown and the Politics of the Corpse ... By MATTHEW SMALLEY
Still 'under Sir William': Locum Tenens, the Johnson Elite, and the Question of Leatherstocking's 'Loyalism' ... By MATT SALYER
Crèvecoeur in Cooper Country ... By WAYNE FRANKLIN
"Pensioner's Muster": Joseph Plumb Martin and the Revolutionary War Pensioners of a Coastal Maine Community ... By KATIE KORNACKI
Sympathy, Gender, and History in the Early Novels of James Fenimore Cooper ... By RENATA DAL SASSO FREITAS
Maria Monk, Samuel Morse, and James Fenimore Cooper's Ways of the Hour ... By BARBARA ALICE MANN
"It was more than I could bear": Recovering the Extrapolitical in Susanna Haswell Rowson's Charlotte Temple ... By RACHEL NOLAN
Lydia Maria Child, Progress of Religious Ideas, and the Power of Religious Sentiments ... By CARL SEDERHOLM
Product Details:
Editors: Wayne Franklin and Barbara Alice Mann
Genre: Literature
Hardback: 253 pages
ISBN: 978-1-7332664-1-3
Dimensions: 9 1/4 x 6 1/4 x 1 inches
About The Author
Contributors: Matthew Smalley, Matt Salyer, Wayne Franklin, Katie Kornacki, Renata Del Sasso Freitas, Barbara Alice Mann, Rachel Nolan, and Carl Sederholm.