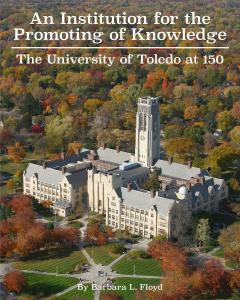 An Institution for the Promoting of Knowledge
Barbara Floyd
$39.95
39.95
The story of the first 150 years of the University of Toledo.
More Details
It was an audacious dream based on a dubious premise.
When Jesup W. Scott donated 160 acres of land near what was supposed to become a major railroad terminal as an endowment for a new university in Toledo, he did so because he believed such an institution would be vital to the development of what was destined to become the "Future Great City of the World." The Toledo University of Arts and Trades, as it was named in the articles of incorporation drawn up by Scott and six other trustees on October 12, 1872, was envisioned as a new kind of university, one focused on furnishing "artists and artizans with the best facilities for high culture in their professions." While Scott himself had been classically educated, he wanted an institution that would provide practical instruction to directly address the economic needs of the city as its commerce and industries expanded to meet its destiny.
At the time the university was founded, Scott had been writing for nearly 40 years about what he saw as Toledo's unique attributes that would someday make it the largest city in the world. While he may have truly believed Toledo's geographic location had all the natural advantages to one day make it bigger than New York, London, or Paris, Scott's thoughts may also have been influenced by the fact that he was, at the time the university was founded, owner of much of the city's land. If Toledo became the greatest city in the world, Scott's prosperity would grow along with it. If a university helped to achieve that goal, it was worth his investment.
Today, we chuckle at Jesup Scott's belief that Toledo could be the greatest city in the world. We may cynically view his endowment of what would become the University of Toledo as nothing more than an effort to protect his land investments, but we also must admire him for his dream. While Toledo never became his great city, there is no doubt the University of Toledo, during its past 150 years, has contributed in innumerable ways to making Toledo a great place to live. Without the university, Toledo's past and future would be very different.
Product Details
All of the author's royalties for this book are being donated to the Ward M. Canaday Center for Special Collections in University Libraries, where the university's archives are preserved.