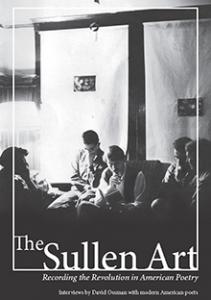 The Sullen Art
David Ossman
$29.95
29.95
A new and expanded edition of 28 unique and personal conversations on the state of America's poetry at a pivotal moment in its history.
More Details
An excerpt of Alan C. Golding's introduction for The Sullen Art:
It was one of those moments where one turns out to have participated in, and even helped shape, a pretty serious literary history without necessarily planning to do so. A precocious young California transplant to New York graduates from Columbia University in 1958 and walks into a revolution in American poetry.
David Ossman was born on December 6, 1936. In 1960 and 1961, he is interviewing emergent American poets for WBAI radio, and is only 23 to 24 years old. In some cases he is talking to poets not much older than himself, learning as he goes. At the same time, Ossman is an engaged participant-observer in the scene that he documents: he read with Jerome Rothenberg and Robert Kelly, he met Rochelle Owens at a poetry reading, his first book was published by one of his interviewees, Margaret Randall. And the book that gathered these important early interviews, The Sullen Art (1963), is published from within that community, by Ted and Eli Wilentz's Corinth Books, publisher of LeRoi Jones, Diane di Prima, Edward Dorn, and others.
In the contemporary Era of the Interview—facilitated by e-mail, which both brings thoroughness and nuance to the proceedings but reduces spontaneity and surprise—it is hard even to find a poet, emergent or established, who does not have an interview published somewhere. Not so in 1963, and the original Sullen Art features the first published interviews with a number of significant poets who were unlikely to get a hearing anywhere else. Other interviews, though not their author's first, are not reprinted; the Allen Ginsberg interview, for instance, does not appear in Spontaneous Mind, his selected interviews. This expanded edition of The Sullen Art adds in each case an epigraph quotation from the interview, a biographical headnote detailing the poet's career (and sometimes Ossman's own relationship to it) up to the time of the interview, and an endnote summarizing the post-interview career. More importantly, it doubles the number of interviews from the original to 28, and there are more in the archive—Ossman talked to some 40 poets. The full Sullen Art archive at the University of Toledo Canaday Center includes interviews with British fellow-travelers such as Charles Tomlinson and Gael Turnbull; writers who were close to inclusion in Donald Allen's key anthology The New American Poetry (Judson Jerome, Gene Frumkin); and unlikely outliers who were themselves very different from each other such as Michael Benedikt and Lewis Turco.
But more generally, what does the collection as a whole now offer? In 2016 the interviews no longer serve their once-introductory function for what Ossman originally "considered a pretty un-hip listening audience," and their brevity—they were mostly 30 minutes long and often included the poet reading his/her work—makes them a rather sparse resource for someone interested in a developed discussion of an individual's poetics. What Ossman's opening up of the archive offers, however, is a rich collective portrait of a moment in American literary history the implications of which are still being lived and written out—as evidenced in the ongoing scholarly attention being paid to it. If no one interview is a major statement, the cumulative conversation is a crucial and often entertaining contribution to the historical record and to our understanding of a cultural and literary moment in the process of its formation.
About the Author
David Ossman was one of the four creators of The Firesign Theatre—the three-time Grammy nominated writers and voice artists, called "The Beatles of Comedy" by the Library of Congress. Prior to his comedy career, Ossman published poetry and translation in books, anthologies and magazines starting as a teenager. He has co-authored four collections of Firesign's stage and radio plays; written a novel, The Ronald Reagan Murder Case; and a memoir, Dr. Firesign's Follies, (both Bear Manor Press). He is currently finishing a second memoir, Fighting Clowns.
An internationally-celebrated radio writer-director best known for The War of the Worlds 50th Anniversary Production, Ossman has also produced major programs with John Cage, Ray Bradbury, and Norman Corwin. His archives chronicle the 1960s, from Beat Poets to the first Renaissance Faire and the first love-ins, then continue into the 21st century.
In 1976, Ossman ran a national "Not Insane!" comedy campaign for U.S. Vice President using a character named "George Tirebiter." He is the voice of "Cornelius" in Pixar's A Bug's Life, and has adapted Agatha Christie's BBC Murders, Jean Cocteau's Orpheus, and an e. e. cummings cabaret for stage.
Marshmallows & Despair (NeoPoeisis Press) is his latest collection of poems. Ossman's work with The Firesign Theatre is widely documented via Google and he can also be found at his blogsite www.davidossman.com. (Firesign's large catalogue of books, scripts and live and audio performances are available through www. firesigntheatre.com and several Facebook sites).