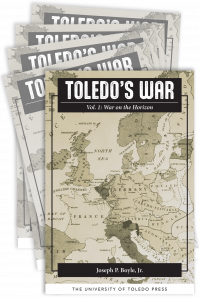 Toledo's War Boxed Set
Joseph P. Boyle, Jr.
$79.95
79.95
A boxed set of all five volumes of Toledo's War by Joseph P. Boyle, Jr., numbered and autographed by the author.
More Details
NOTE: This is a PRE-ORDER. Books will not ship until they arrive from the printer this August. The boxed set is the ONLY way to acquire all five books at once, when released in August.
In 2012, Joe Boyle began teaching a World War II elective through Toledo Public Schools' distance learning program. When he began the course, he was shocked to learn there was no comprehensive list of Toledo's war dead, much less a book detailing either Toledo's home front in World War II, or the experiences of Toledo's men and women overseas. Nor was there a book about the effects of the war on Toledo, which contributed directly to many of the issues the city faces today.
He decided to write a comprehensive narrative telling the story of World War II through the experiences of the men and women of the Glass City. His eight-year effort resulted in Toledo's War, an impressive manuscript of more than 230,000 words. The University of Toledo Press opted to break the tome into five different volumes.
The overall body of work provides a background for the childhood environment in which the military-age men and women of the city were raised in the early decades of the 20th century. The books then view the beginnings of the war through local news coverage and editorials. With Toledoans involved in every phase of the war from the bombing of the Great World Amusement Center in Shanghai 1937 through the occupation of Japan and Germany, the story of the war is told through their individual stories.
The story of the Toledoans' experience of the war is intercut with stories from the homefront happening at about the same time. Woven through the larger story is the connecting tissue of stories of 15 to 20 Toledoans whom Boyle either extensively interviewed, or interviewed relatives, or located detailed statements about in archival research.
There is no comparable manuscript of this era as it pertains to Toledo. Toledo's War is the only work that attempts to sequentially tell the entirety of the story of American involvement in World War II through the prism of an individual city.
Each box set consists of:
Toledo's War, Vol. 1: War on the Horizon
Toledo's War, Vol. 2: America Enters the War
Toledo's War, Vol. 3: Turning The Tide
Toledo's War, Vol. 4: "The Hour Has Come"
Toledo's War, Vol. 5: Three Cheers
The outside of the protective box will be signed by Boyle and will be numbered x of 250.