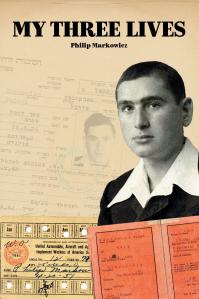 My Three Lives
Philip Markowicz
$29.95
29.95
The autobiography of World War II holocaust survivor Philip Markowicz.
More Details
Some stories should not be left untold, and the life experiences of Philip Markowicz comprise one such story. In fact, when he looks back upon his past, Philip feels like he has lived three lives, not just one. His first life was growing up as a young boy in Przerab, Poland. His father was a Chassidic Jew and a rabbi, and Philip and his loving family lived a happy life filled with tradition and religion.
But that was all disrupted and his second life began when the Germans invaded Poland at the start of World War II. After Philip's father became a target of persecution at the hands of the Nazis, his family fled their village for the larger city of Lodz. There they were soon moved into the ghetto. His family and the Jewish population became smaller and smaller as people died of starvation and exhaustion and the Nazis continued to "exterminate" Jews in their quest for racial "purity." Of his large family just he and his brother, Henry, survived the ghetto only to be sent to Auschwitz and a series of other concentration camps ending the war on a death march that few survived.
Through faith and determination, Philip survived the Holocaust to start his third life, one of rebuilding in spite of what he had lost. He met and married his wife, Ruth, in a Displaced Persons camp, and they eventually moved to the United States, where Philip worked hard to give his wife and three children every opportunity his new country offered. He sought to move on from his past and for a long time he remained silent about the unthinkable horrors he had witnessed and the hardships he had endured.
As time went on, however, Philip realized his story needed to be told, if for no other reason than to memorialize his family and all the Jews who lost their lives at the hands of the Nazis. My Three Lives, by Philip Markowicz, is an inspiring story of a man who courageously endured hardship with faith and triumphed to rebuild his life and family with love.
Product Details:
Genre: Autobiography
Paperback: 520 pages
ISBN: 978-1-7369164-1-4
Dimensions: 9 x 6 x 1.2 inches
This is a a re-release of a book first published in 2010 that is no longer in print.
About the Author
Philip Markowicz (1924-2017) was born to a Chasidic family in Przerab, Poland. He narrowly escaped death at the hands of the Nazis and emigrated to Toledo in 1950, where he lived until his passing. He is also the author of a study of the Hebrew bible, Losing God in Translation, and was a much sought after speaker. In his memory his family established the Philip Markowicz Endowed Chair of Judaism and Jewish Biblical Studies at The University of Toledo.
Obituary in The Blade "Nazi death camp survivor shared his experiences"