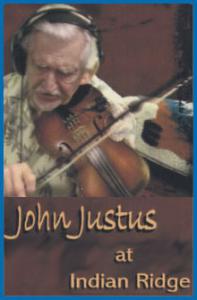 John Justus at Indian Ridge
John Justus
$13.65
13.65
Our first audio media project—a compact disc titled John Justus at Indian Ridge.
More Details
In memory of John Justus, we at the University of Toledo Press are happy to be a point of sale for his debut album: John Justus at Indian Ridge. Feel free to listen to the first track, 'Road to Columbus', using the audio preview button to the left.
Those interested in the life of John Justus, feel free to see The Toledo Blade's obituary.
Original Text as It Appears Inside of the CD's Insert
This isn't about an old-timer sitting on a porch waiting for a folklorist to come along and record his out-of-use repertoire. It also isn't about a musician whose glory days preceded laptops and cell phones. This is about an active, working musician who plays all over town every week, day in and day out, runs at least two jams on an ongoing basis, and can deliver a version of 'Road To Columbus' that's as hot as anything you've ever heard in your life. This CD is a slice of John Justus's musical life. Most of the recordings were made at the Indian Ridge Recording Studio in Delta, Ohio in 2006 and 2007. The few tracks that weren't recorded there were re-mastered from old cassette tapes John brought to Indian Ridge where sound engineer/wizard Jerry Eicher brought them back to life. Hence the title.
And it's not just about John. A string of his friends and fellow musicians were more than willing to make the long drive out to Delta to back him up. You hear a virtual who's who of the northwest Ohio traditional music scene on these tracks, from Jess Hurt to Jimmy Thompson to Larry Reinstein. Tom McFarland, an old friend and bandmate of John's, came all the way from Colorado to be in on this recordig. These musicians know John and respect his skills and were happy to be tapped to sit in with him. So it's really about a community with John somewhere near the epicenter.
Tom Barden, October 2007
About The Author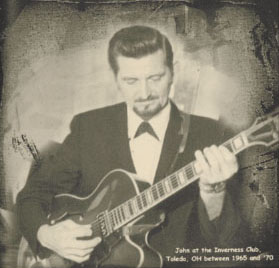 John was born in Fort Payne, Alabama in 1926 and grew up surrounded by old time and country music in Fort Payne and in north Georgia where his mother's family lived. After he came back from World War II, he played fiddle and guitar in his younger brother Roy's band. He moved to Toledo in 1950 to find work in the expanding post-war auto industry. He quickly gained renown as a guitarist and band leader in Toledo, teaching guitar at several prominent studios and playing at Inverness Country Club fronting his own band, the John Justus Quartet. In the early 1980s, he started concentrating on the fiddle. When I told Fred Shuman, the owner of Durdell's Music in west Toledo, that John was making a CD he asked me if it was going to feature John as fiddler or guitar player. He was visibly relieved when I said both. He said "I was always sorry that John moved to the fiddle, because he was by far the best guitar player in Toledo."
If John Justus took up the nose flute, it wouldn't be long before everybody would be saying he was "by far the best nose flute player" in wherever, because that's just the way he is. He has something in him when it comes to music that compels him to get better and better--it's the same thing that was in Michael Jordan with a basketball, or Picasso with a paintbrush. Northwest Ohio is lucky he landed here over fifty years ago and brought that drive and skill with him. It was a major "brain gain," to use the current urban planning slang. And this CD, the first professional recording John has ever made, is just the tip of the iceberg of this man's very large musical gift to us all."
Tom Barden, October 2007
For an interview with John Justus from 2008, see this past Toledo Blade article.