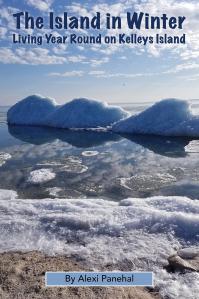 The Island in Winter
Alexi Panehal
$19.95
19.95
A popular summertime destination, living year round on Kelleys Island is an entirely different kettle of fish.
More Details
Alexi Panehal and her family had been coming to Kelleys Island for more than 60 years. During her youth, virtually every summer weekend was spent at the family's cottage on the island. Alexi and her four siblings enjoyed the unbridled freedom of island living: hiking, swimming, boating, campfires, and more. The tiny village community of Kelleys Island was their playground and the family's little slice of heaven.
Decades later, with a successful career behind her, Alexi weighed her retirement options and decided to make Kelleys Island her home year round. While Kelleys is only a few miles from the mainland, living on the little Lake Erie island during the winter requires meticulous planning and preparation to avoid costly, and potentially dangerous situations.
In The Island in Winter, Alexi discusses the various aspects of island life, from the quirky to the cantankerous, the generous to the genial, and everything in between. She comments on the aspects of summer life, when the island is inundated with fair weather visitors and residents, as well as the stark seclusion the winter months can bring. A great book for people interested in life on one of Lake Erie's very special islands.
About the Author
Alexi Panehal is a retired Senior Foreign Service Officer who worked for the U.S. Agency for International Development for over 35 years. She was born and raised on the west side of Cleveland. She earned an undergraduate degree from Georgetown University's School of Foreign Service and graduate degrees from Harvard University's Kennedy School of Government and the National Defense University, National War College. The Island in Winter is her first book.