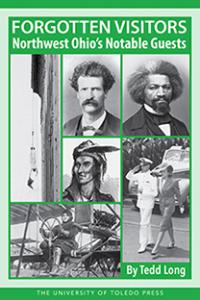 Forgotten Visitors
Tedd Long
$24.95
24.95
The fascinating stories behind the forgotten visits of famous people to Northwest Ohio.
More Details
Taking readers from the Northwest Indian War to post-industrial Toledo in the early-twenty-first century, Tedd Long traces the stories of famous and not-so-famous visitors to Northwest Ohio and uncovers the surprising details of their stay in his book, Forgotten Visitors; Northwest Ohio's Notable Guests. As a master storyteller, Long goes beyond the simple questions of who, when, and where as he keenly explores the alluring backstories and subplots of the local stopovers as an entertaining way to help readers appreciate the history of the Maumee Valley.
The fascinating stories behind the forgotten visits of famous people. Our region was visited by such notables as: Zebulon Pike and William Clark (1794), Tecumseh, Little Turtle, and Blue Jacket (1794), Robert E. Lee (1835), Frederick Douglass and Sojourner Truth (1864), Mark Twain (1869), Susan B. Anthony and Elizabeth Cady Stanton (1869), Sarah Bernhardt (1881), Jumbo (1883), Harry Houdini (1893), Ty Cobb (1906), Senator Joseph Benson Foraker (1908), Blanche Scott (1910), Al Capone (1919), Sir Arthur Conan Doyle (1922), Babe Ruth (1928), The Canary Bolt (1934), Douglas "Wrong Way" Corrigan (1938), Marlene Dietrich (1942), Dr. Martin Luther King (1967), Burt Reynolds (1972), Mother Teresa (1976), Frank Robinson (1976), and Neil Young (2004).
Product Details:
Author: Tedd Long
Genre: Local History
Paperback: 204 pages
ISBN: 978-1-7332664-4-4
Dimensions: 9 x 6 x 5/8 inches
News Coverage & Reviews
Toledo City Paper book review "Toledo's 'Forgotten Visitors': Local author looks at Glass City past"
Toledo Blade book review "Passing through: Book explores historic figures who spent time in Toledo"
Our American Stories interview with author Tedd Long "The Unexpected Visitors of Toledo"
WTOL Your Day interview with author Tedd Long "Local writer pens book on northwest Ohio's notable 'Forgotten Visitors'"
London Mitchell's Dec. 20 conversation with author Tedd Long "Tedd Long, Forgotten Visitors, Parts 1, 2, and 3"