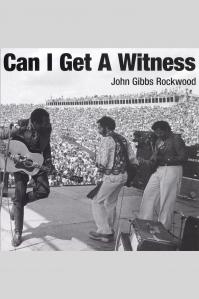 Can I Get A Witness
John Gibbs Rockwood
$22.95
22.95
John Rockwood was there with his fast shutter: a line-up of guitars on the long-gone urinals of the Toledo Sports Arena...
More Details
John Rockwood was there with his fast shutter: a line-up of guitars on the long-gone urinals of the Toledo Sports Arena, Jimmy Reed in a wig hat, 17-year-old Tanya Tucker on her first tour, Jon Hendricks backstage bending notes, Muddy Waters holding court, Toledo icons Art and Roman Griswold with Big Jack Reynolds at a long-shuttered joint near the Maumee River. Rockwood got that clean shot of Son House calm and elegant, Jethro Tull, eyeballing his sexy backup singers, BB King chillin' in the dressing room, sweat-drenched Lil' Ed fronting the Blues Imperials at Toledo's Party in the Park. Rockwood caught John Lee Hooker jamming and Bo Diddley prancing, Dave Brubeck like a sphinx arched over the keys, Springsteen in a black muscle shirt by half-light, James Brown performing in a cheerleader skirt, Victoria Spivey glancing at Johnny Ace in Ann Arbor, and Jerry Lee Lewis, "The Killer," absolutely destroying 88 keys. Then and there and here and now - this is John Rockwood's astounding, vast contribution to our American Archive.
Joel Lipman, editor, Witness to the Blues
Product Details
Title: Can I Get A Witness
Author: John Gibbs Rockwood
Genre: Photography
Paperback: 162 pages
Publisher: The University of Toledo Press
ISBN: 978-0-932259-41-7
Dimensions: 8 1/2 x 8 1/4 x 3/8 inches
Reviews:
Article:
Article:
Article:
"
Bearing Witness: Fan's photos capture an era in Toledo music history
"
by Rod Lockwood at the Toledo Blade.
More Information
Can I Get a Witness by John Gibbs Rockwood is, first and foremost, a book of art. Not only in the form of the photographs, skillfully shot by Rockwood, but also in the form of the artists and performers depicted in the photographs themselves.
Featuring a variety of rock and roll, blues, folk, and pop performers from the early 1970s through the 2000s, Rockwood has accumulated a plethora of images that illustrate venues in the southeast Michigan and northwest Ohio regions. Performers such as Bob Dylan at the University of Toledo, Ritchie Blakemore in Detroit, and Buddy Guy in Clarkston, Michigan, and John Rockwood capturing all parties involved doing what they do best; crafting and engaging in their preferred art forms.
About The Author
John Gibbs Rockwood was born and raised in Toledo, Ohio. Until his recent retirement, he maintained a secret identity as project manager for Hines Corporation at the Owens Corning World Headquarters. By the light of the moon, he emerges as a blues harmonica player, writer, radio DJ, producer, discographer, rock and blues aficionado, and world-renowned photographer. He has a wife of 30 years, Jennifer, and two sons, Ian and Julian.
Rockwood's journey as a photographer began in the 1960s and continues to this day. His camera has captured his favorite artists in their homes, backstage, in smoky barrooms, backyard barbeques, juke joints, major concert halls, and wherever the blues and rock and roll are played. His subjects have included the likes of Muddy Waters, B.B. King, John Lee Hooker, Howlin' Wolf, Bruce Springsteen, Stevie Ray Vaughan, and David "Honeyboy" Edwards. Rockwood's photographs have appeared in many books, notably: Rolling with the Rolling Stones, Bill Wyman's Blues Odyssey: A Journey to Music's Heart and Soul, Can't Be Satisfied: The Life and Times of Muddy Waters, Big Boss Man: The Life and Times of Bluesman Jimmy Reed, For You, and A Light in the Darkness. More photographs appear in the PBS documentary, I'll Take You There, a retrospective of the Hines Farm Blues Club in Swanton, Ohio. His photos have also graced the covers and liners of countless LPs, CDs, and magazines, and his work has been showcased in museums and art shows both locally and nationally. Most recently, "Rollin' and Tumblin': John Rockwood Photographs," was displayed at the Madhouse Gallery in Toledo, Ohio.
For the past dozen years he's also functioned as a blues producer and record label tycoon with Blue Suit Records, issuing original works by Eddie Burns, Honeyboy Edwards, Sir Mack Rice, Eddie Kirkland, Detroit Junior, and many more. He produced the song "Ride Andrei Ride," by Sir Mac Rice for the PBS documentary Road Scholar. A recipient of an Ohio Arts Council Award, Rockwood has additional photographs housed at the University of Mississippi's Blues Archives. You can catch him some nights, harp in hand and camera at the ready, playing local venues and festivals with his band Voodoo Libido.
John Gibbs Rockwood biography courtesy of Jennifer Rockwood