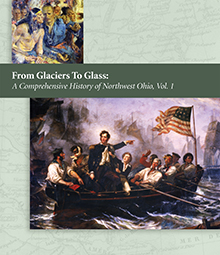 Price: $24.95
From Glaciers To Glass Vol 1
From Glaciers To Glass: A Comprehensive History of Northwest Ohio, is a two-volume series that contains the best of the nearly 90 years of articles from Northwest Ohio History and its predecessor, Northwest Ohio Quarterly.
The purpose of these two volumes is to showcase the outstanding quality of local history scholarship. Great care has been taken to ensure the articles selected capture the breadth and depth of northwest Ohio history. The articles have been arranged in a chronology that allows the reader to grasp the evolution of our region.
This volume covers the natural history of the region, the history of Native Americans, the Early Republic period, through the Civil War.