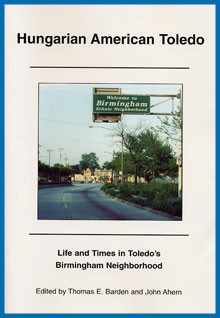 Price: $14.95
Hungarian American Toledo
Edited by Thomas E. Barden and John Ahern, 2002.
"Hungarian American Toledo offers a model for ethnographic research and writing by bringing together so many disciplinary perspectives. The cultural traditions explored in these essays are rich and provocative."

-- Dr. Lucy Long, Bowling Green State University
Excerpt:
In 1892, the National Malleable Castings Company of Cleveland, Ohio, transferred approximately 200 Hungarian workers from its home foundry to a newly built East Toledo site. The Birmingham neighborhood quickly became a major working-class Hungarian enclave and thrived through the first half of the 20th century. Birmingham was revitalized in the 1970's when a plan to build a highway exit through the community rallied its citizens to action. Today, Birmingham remains a vibrant neighborhood. The essays of Hungarian American Toledo tell its story.
Product Details
Title: Hungarian American Toledo
Editor: Thomas E. Barden and John Ahern
Genre: History
Paperback: 263 pages
Publisher: UT-UAC Press
ISBN: 0 932259-02-2
Dimensions: 9 x 6 x 1/2 inches